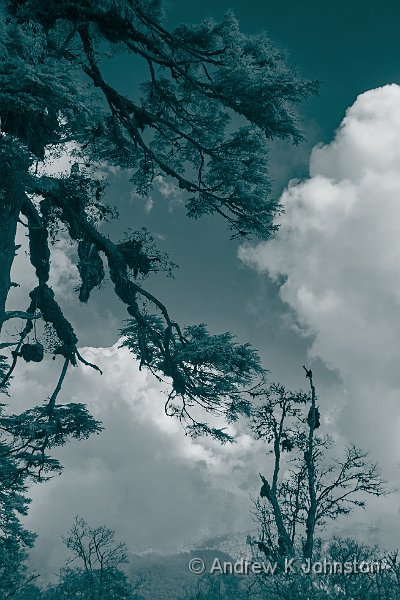 Camera: Panasonic DMC-GF3 | Date: 17-11-2015 10:24 | Resolution: 2612 x 3918 | ISO: 160 | Exp. bias: -33/100 EV | Exp. Time: 1/400s | Aperture: 6.3 | Focal Length: 14.0mm | Location: Dochu La Pass (3150m) | State/Province: Punakha | See map | Lens: LUMIX G VARIO PZ 14-42/F3.5-5.6
Bhutan isn't especially demanding on equipment. If your style of photography is similar to mine you will need a wide range of focal lengths, from ultra-wide (for when there's limited space in front of a large building) to long telephoto (for inspecting details of the landscape). Outside light is usually very powerful, but inside you will rapidly need some combination of high ISO, fast lenses and a tripod. If anything the greatest challenge is the relatively harsh, direct lighting during the day (when the temples and Dzongs are open), and you will need to watch for flare and the effects of polarisation.
Dust can be a bit of a challenge, especially on or near the roads. It does tend to get everywhere, even inside filter pouches for example, but a filter will protect your lens, and other kit will just need a careful dust down. My excellent Hoya high-transmission 58mm polarising filter picked up a small scratch, but that's a small price for providing both its optical services and protecting the lenses.
Shot Counts
The scores are in, and the shot counts are as follows:
Panasonic GX8: Almost exactly 3,000 shots. Quite a lot of those are for "multi shot" images, including 3D for the first time this year
Panasonic GX7: About 100 shots, plus video of "culture night"
Sony RX100 mk IV: About 364 stills, plus quite a few short video clips
Overall the totals are very similar to Morocco, albeit with a different camera mix. It looks like I'll have about the normal 50% discard count, and end up with around 100-200 images which I want to show people, which is fine.
Panasonic Cameras
The Panasonic cameras have worked well. The GX8 is fast and produces great image quality. Its viewfinder is large and bright (although I have to acknowledge that the Fuji XT1 is even nicer), but does seem to be more sensitive to white balance changes than previous models. This means that you may see a bit of a red or brown cast on the live image in some cases, which doesn't affect the captured image but can be slightly off-putting. It wouldn't surprise me if this attracts a firmware change at some point.
Handling of the GX8 is good, but the viewfinder and controls are just different enough from the GX7 that you can't just leave a different lens on the older body and switch quickly back and forth between them.
Even though it packs a much bigger battery than the GX7 battery life is still only moderate. I never used more than 3 per day, but that could have increased if we had done significant action shooting, so my purchase of a total of 4 was probably justified.
Bags
The National Geographic Africa Medium Backpack is an excellent device for carrying equipment between locations. It meets the most miserly airline carry-on restrictions, but easily swallowed my 15" laptop, tablet, 4 Panasonic bodies, 8 lenses including the 100-300mm, a small flash and various odds and ends.
Unfortunately it's pretty bloody useless as a working bag on location. The only way to extract kit is to take it off completely and lay it flat on the ground, getting it and then you filthy, and the whole process is very fiddly. Luckily I had allowed for this and fitted one of my Lowepro Nova shoulder bags (the 180 AW) into my hold luggage. This has room for the main body and lenses, the infrared GF3 and bits & pieces with room over for a small water bottle.
Sony RX100 Mk IV
First impressions of the Sony RX100 mark IV are excellent. It is fast, with almost DSLR-like autofocus, and the image quality is superb – more or less a match for my Panasonic cameras at moderate ISOs. My camera has had a "baptism of fire" being used mainly to try and get grab shots from a moving bus, so maybe not exactly a fair test, but has delivered decent results albeit with some misses. Although the EVF is small, and does seem to need quite regular re-adjustment against my glasses, it is clear and perfectly usable in a way which wasn't true of the Panasonic GM5 I tried.
The handling is a bit fiddly, but I wouldn't subscribe to some of the complaints I have read in internet interviews. However it is far to easy to accidentally change shooting mode, and the other problem I have had is accidentally pressing the power button instead of the shutter, and switching the camera off at just the wrong moment. If you have the camera at arms length in a tricky shooting position, the feel of the two controls is just not different enough.
Battery life is limited, although no worse than other cameras with a similar sized battery (like the Canon S120). Sony's insistence on in-camera charging is annoying, and I've now purchased a third party charger and spare batteries from Germany.
I tried carrying my camera just in my trouser pocket, where it fits well. However it rapidly picked up a number of small scratches on the rear screen. Nothing fundamental, but a real annoyance on a brand new, expensive little camera. This seems to be a vulnerability of Sony cameras, with one of the other members of the group suffering a similar problem with his A7. I'm hoping that I can fit a screen protector to restore the original appearance, and am now carrying the camera in a small cloth pouch which came with a Metz flashgun.
Other Notes
One other annoyance is that I changed my phone earlier this year from a Samsung Galaxy Note 2 to a Note 3. The older Notes had very good GPS, getting accurate fixes quickly in most conditions. The Note 3 has a useless GPS, taking time to get a good fix even at the top of a mountain under cloudless skies! As a result my GPS track has a couple of annoying gaps in it, and I've had to do a lot of manual work and fix it, which has never been necessary on previous trips.
At the same time, my Note 10.1" tablet seems to have suddenly lost most of its battery capacity, and is only good for about 4-5 hours, not long enough for some of the flights on this trip. I am seriously thinking of a shift in loyalties.
Overall a few annoyances, but I managed to travel quite light, and unlike some trips there were no major problems. That's a refreshing change.