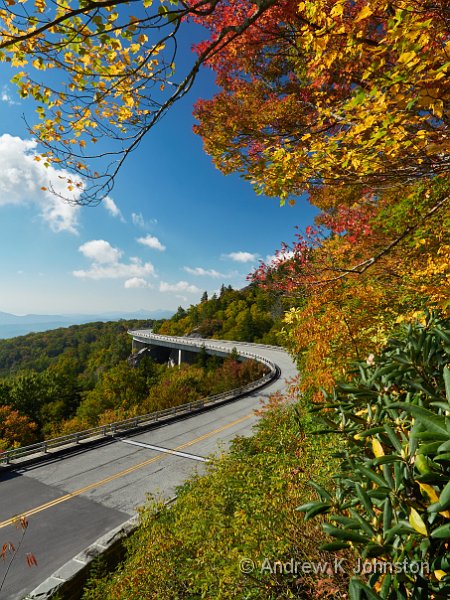 Camera: Panasonic DMC-GH4 | Date: 30-09-2014 10:28 | Resolution: 3624 x 4832 | ISO: 200 | Exp. bias: 0 EV | Exp. Time: 1/160s | Aperture: 8.0 | Focal Length: 12.0mm | Location: Linn Cove Branch | State/Province: North Carolina | See map | Lens: LUMIX G VARIO 12-35/F2.8
Day 10
We start by driving back to the Linn Cove Viaduct, the last piece of the Parkway finally put in place in 1987. It's a great feature in its own right, but there's also some very colourful foliage on the slopes of Grandfather Mountain above it, and great reflections in a small lake slightly further along.
Then we move on to the Moses Cone Estate, home to the inventor of denim. The manor house itself is charming, but is now a craft centre and you can't even get a cup of coffee. We decide to do the walk down to his Bass Lake, which is pretty and relatively easy, but misleadingly described on the map and turns out to be a round trip of almost 5 miles. We get some great shots at the lake, but by the time we get back up the hill to the car we are both almost speechless…
Dinner is taken at a small Mexican across from our hotel, which is most impressive for the sheer industrial volume with which they are producing and serving some very tasty fresh food. We are in and out in 40 minutes, during which time three couples are served at the next table. Unfortunately our otherwise very efficient and hard-working Hispanic waiter fails to understand the highly technical concept of beer, so I fail yet again to get my preferred drink.