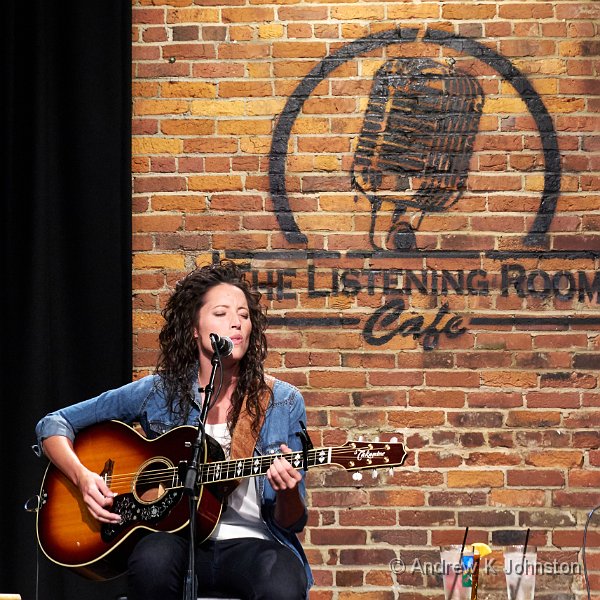 Camera: Panasonic DMC-GX7 | Date: 24-09-2014 18:14 | Resolution: 3424 x 3424 | ISO: 3200 | Exp. bias: 0 EV | Exp. Time: 1/25s | Aperture: 5.6 | Focal Length: 46.0mm | Location: The District | State/Province: Tennessee | See map | Lens: LUMIX G VARIO 35-100/F2.8
Day 4
It's a long but leafy drive from Memphis to Nashville, a bit like a 200-mile long tree lined avenue, but with bigger trucks! The road is misleadingly uniform, so it's a surprise how different the two cities are. Nashville feels hotter (despite being higher and further north) and has a much more prosperous appearance.
Lunch is an alleged "prime rib sandwich", basically a complete prime rib with two wonderful pieces of fried bread. Then we visit another fabric shop, which has by far the largest selection of fabric prints either of us have ever seen in one place.
Fabric shopping complete, it's a short drive to the "music district". Nashville must have more live music venues than London, and they are all within about half a mile. There's literally music coming out of every orifice. We take afternoon drinks on the rooftop of the Hard Rock Cafe with a bunch of madmen who are prepared to attempt anything from Johnny Cash to Whitesnake, although they have to read the lyrics of Brown Eyed Girl off a phone. Dinner is with three charming young ladies playing their own country songs.
In the middle of dinner one of the songs is about whiskey, and I realise to my horror that I've been heading to the wrong Lynchburg for the Jack Daniels tour. Fortunately the mistake is recoverable just at this point, so tomorrow will be a slightly different route to the one we originally planned!