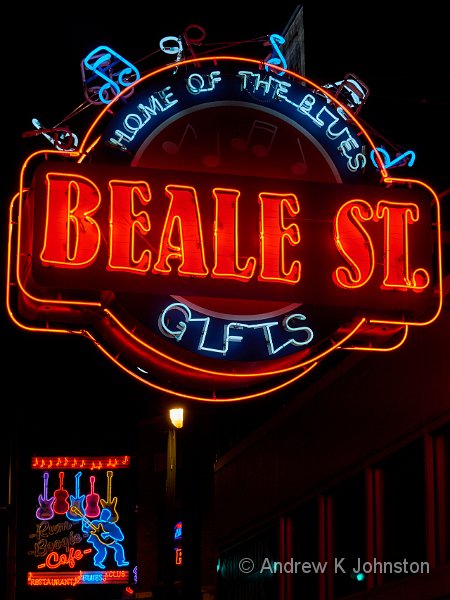 Camera: Panasonic DMC-GX7 | Date: 22-09-2014 19:35 | Resolution: 2562 x 3416 | ISO: 500 | Exp. bias: -66/100 EV | Exp. Time: 1/80s | Aperture: 8.0 | Focal Length: 39.0mm | Location: Beale Street National Historic | State/Province: Tennessee | See map | Lens: LUMIX G VARIO 35-100/F2.8
Day 2
Another early start, but thanks to jet lag it's not a major issue. Reagan National Airport turns out to be an architectural gem, and I get some great shots of the main hall. Operationally it's not at quite the same level and US Airways first have a very confusing check-in process, then load us onto a bus which spends about half an hour circling the tarmac before delivering us to a very small plane. At least we're well looked after by the lone stewardess, and promptly delivered to Memphis to start our tour in earnest.
Picking up the car proves slightly harder work than usual, but we are rewarded with a very dramatic Mustang convertible in powder blue. Annoyingly Ford have changed the shape of the boot yet again, so it is now physically impossible to fit two suitcases, and we will be doing the whole trip with one on the back seat. At least the hotel is only about 5 minutes drive and easily located.
After lunch the first target is Graceland. This proves to be rather smaller than expected and much less tacky than feared. Given Elvis' slightly odd choices of decor and gadgets "elegant" may not be quite the right word, but neither is it completely wrong. You are left with the impression of a good man who liked his cars and gadgets but was otherwise of relatively simple tastes, and maybe just found the stress of constant performing a bit too much to cope with.
The Meditation Garden existed as such even before Elvis' death, another indication of his sensibilities. Today it houses his grave and those of his parents and grandmother. I promise Frances "no more graves", but some promises are harder to keep.
We haven't really tuned into the rest of Memphis, but the lady at the Graceland tourist desk gives us directions to somewhere called Beale Street. The route involves driving along the recently renovated waterfront of the Mississippi River, and it's great to see Ole Man River in reality after a lifetime of reading about it. We then walk into a wall of sound, with music of every sort coming out of every door. Beale Street turns out to be very much the tourist hub of Memphis, with lots of interesting shops, great signage, and all that music. In photography terms it's what they call a "target rich environment".