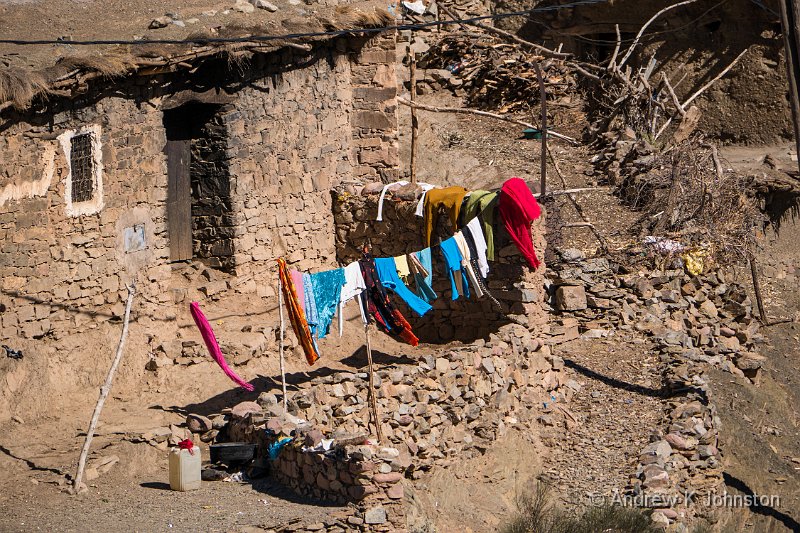 Camera: Panasonic DMC-GX7 | Date: 13-11-2013 12:15 | Resolution: 4504 x 3003 | ISO: 200 | Exp. bias: 0 EV | Exp. Time: 1/1000s | Aperture: 6.3 | Focal Length: 275.0mm (~571.0mm) | Lens: LUMIX G VARIO 100-300/F4.0-5.6
On Wednesday we moved off from Marrakech, up over the Atlas mountains. Quite a long drive, made even longer by a couple of factors. Firstly a bus full of photographers will stop repeatedly to shoot every pretty hillside village. Second the Caliph's Revenge, or whatever they call the local travellers' tummy caught up with me and I had to request a couple of extra stops at short notice!
The views from the top of the Tizi-n-Tichka pass were quite dramatic and will make a good panorama.
I must stop making eye contact with the roadside vendors. I'm now the proud owner of a rather pretty geode, and a very complete trilobite fossil which I didn't set out to purchase!
At the end of the day we arrived at Ait Ben Haddou, a very picturesque old town which will be immediately familiar to those who have seen films like Gladiator, Kingdom of Heaven or Prince of Persia. Exploring it is Thursday's job.