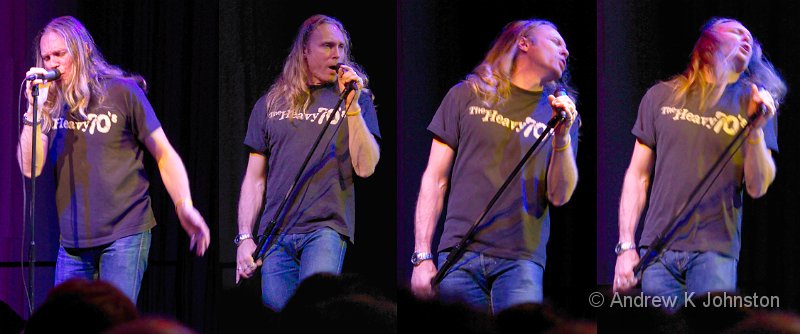 Camera: Canon EOS 550D | Lens: EF-S17-85mm f/4-5.6 IS USM | Date: 31-10-2010 22:52 | Resolution: 9012 x 3761 | ISO: 3200 | Exp. bias: -1 EV | Exp. Time: 1/25s | Aperture: 6.3 | Focal Length: 85.0mm (~137.7mm) | Lens: Canon EF-S 17-85mm f4-5.6 IS USM
Sorting out a few old photos, I got to some I took at a concert by the Walter Trout band in October 2010. Those of the great man himself and the other instrumentalists are fine, but I was particularly pleased with this sequence featuring the band's regular "guest vocalist" (and roadie, and CD salesman), Andrew Elt. His performances are always absolutely bone-tingling, and this was no exception, but he also looks the part!
The images were taken with my Canon 550D held at full stretch above my head in what passes for a "mosh pit" at the Mick Jagger Centre, and I've used 4 out of a sequence of 9. Thank <insert deity of choice here> for ISO 3200 and image stabilisation!