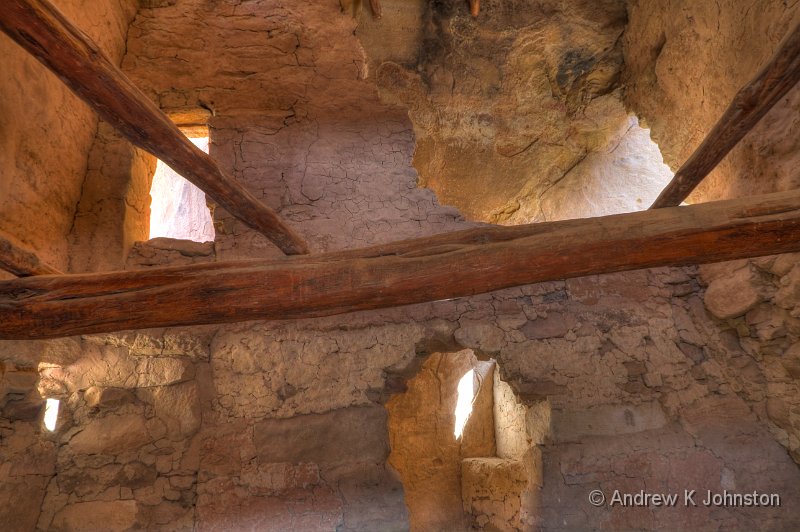 Camera: Canon EOS 7D | Lens: EF-S10-22mm f/3.5-4.5 USM | Date: 05-10-2012 15:58 | ISO: 800 | Exp. bias: 0 EV | Exp. Time: 1/15s | Aperture: 10.0 | Focal Length: 13.0mm (~21.1mm) | Location: Peterson Reservoir | State/Province: Colorado | See map | Lens: Canon EF-S 10-22mm f/3.5-4.5 USM
Day 6
We started today with a visit to Shiprock, basically a big lump of rock jutting up out of the plain. This is sacred to the Navajo, and can look very dramatic in the right light, but was a bit boring in the mid-morning light we found. However, I was very impressed by the long "blade" of rock which leads up to it from the South, which must be two miles long and only a few feet thick.
After that we set off for one of the highlights of the trip – Mesa Verde National Park. This is where the Puebloan Indians built dramatic villages into rock alcoves on the cliff sides of the mesas. Very inspiring, and stunning photography, particularly with the sun setting on Cliff Palace.
First Prime Rib of the trip, at the diner next to the hotel in Durango.
Photography 9/10
Food 9/10
Large animal count 8 (2 wild horses, 2×3 deer)
Day 7
Not much to write about, but very much the photographic core of the trip. We spent the day in Mesa Verde, exploring all the sites. In the evening we went into the historic centre of Durango (absolutely heaving!) and had a very good meal.
Photography 8/10
Food 9/10