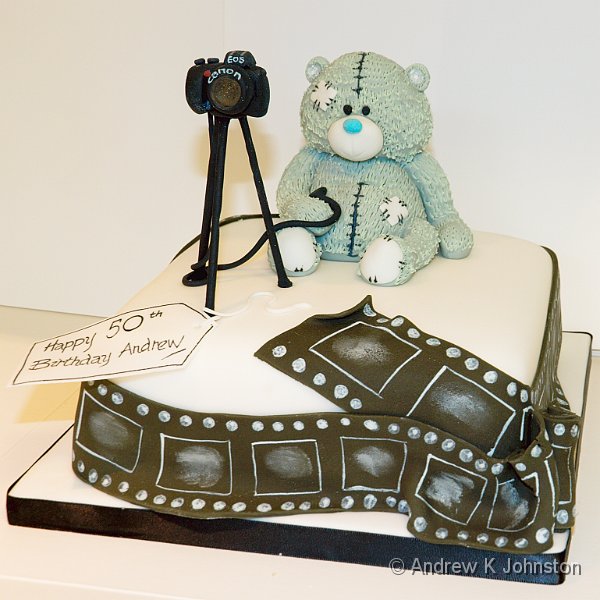 Camera: Canon EOS 7D | Lens: EF-S15-85mm f/3.5-5.6 IS USM | Date: 13-03-2011 10:43 | ISO: 400 | Exp. bias: 2/3 EV | Exp. Time: 1/10s | Aperture: 8.0 | Focal Length: 29.0mm (~47.0mm) | Lens: Canon EF-S 15-85mm f3.5-5.6 IS USM
With my half century finally upon me, my wife Frances has excelled herself by commissioning a most wonderful cake, celebrating my photographic passion! This is well up to the standard of "Bear in a Porsche", from a few years back…
Those of you who have known me for some years will recognise that "Tatty Bear" probably more accurately reflects my shape and condition than my earlier icon, the "Forever Friends Bear". Ah well, that's the advancing years for you.
Of course, some of you will also know that it's a long time since I last shot a roll of film, but somehow I think a row of 1s and 0s around the base of the cake wouldn't work nearly so well. And I did manage to help expose four sheets of 8×10 on my last visit to Barbados, so I can't claim to be absolutely 100% digital 🙂
Quick plug: if you need a good cake maker, then the above creation was the work of Jonathan at Simply Cakes in Weybridge. Having now sampled it, I can confirm it tastes just as good as it looks, so I'm happy to recommend him.