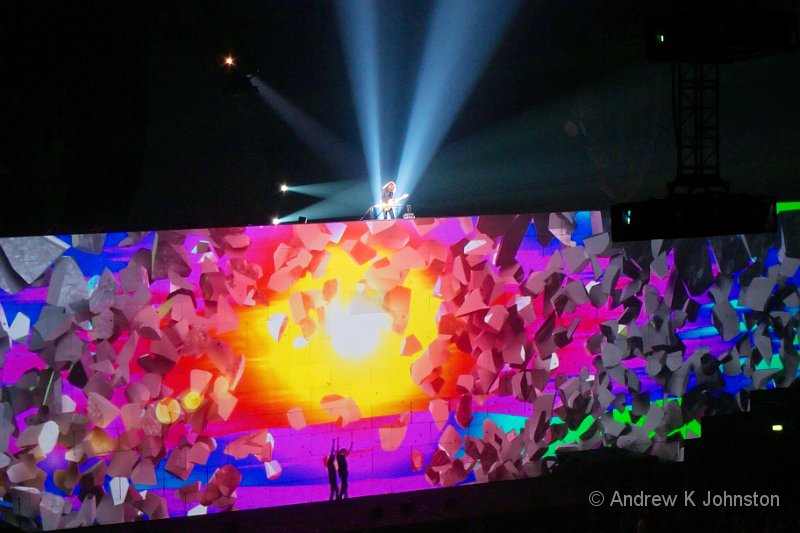 Camera: Canon PowerShot S95 | Date: 17-05-2011 16:59 | ISO: 800 | Exp. bias: 0 EV | Exp. Time: 1/25s | Aperture: 4.9 | Focal Length: 22.5mm | Lens: Canon EF-S 10-22mm f/3.5-4.5 USM
Thanks to some generous colleagues and the last minute availability of a spare "hospitality" ticket, I was lucky enough to get into a sold-out Roger Waters concert based on Pink Floyd's The Wall this week. It was a really great show, and prompts several different observations.
First: the concert itself. I can only think of superlatives to describe it. Essentially while the music played and described Pink's increasing isolation, the Wall of the metaphor was progressively built up, in front of the main part of the stage. The Wall was then used as a screen on which a variety of projections were shown: some simple graphics, many derived from the original Gerald Scarfe illustrations for the album, and others illustrating some of the social and political philosophies behind the lyrics. The projection technology was amazingly sophisticated, being able to extend to individual bricks as they were inserted, so that there was no "spill" onto the background activities which had their own lighting and pyrotechnics.
The music and sound quality were simply superb. I have been to concerts at the O2 where the sound was a bit muddy, but that wasn't a problem here: every note and word as clear as on the album, albeit with the variations which you'd expect in a live performance, by a slightly different group of musicians, 35 years on from the original.
This is also a "photography" post for two reasons. Firstly, it was refreshing and encouraging to attend a concert with a realistic, liberal attitude to photography, which was clearly presented in both notices and an announcement: attendees were welcome to take photos, but would they please ensure their cameras were set to "no flash". It was slightly disappointing to see that a few audience members couldn't follow this simple instruction, but overall it worked well.
I had taken my tiny Canon PowerShot S95 in my pocket, and I'm very pleased with the results. The above was taken from the back of the hall, at ISO 800, on a camera about the size of a cigarette packet. This isn't the limit of the camera's capability: I got some decent shots at ISO 1600, albeit applying quite aggressive noise reduction in my RAW processor, and the in-body image stabilisation seems to have worked down to about 1/8s. OK, my photos are not going to blow up to A2 or sell as fine art prints, but as memories of a great concert obtained without carrying my normal (and probably forbidden) heavyweight kit they are very encouraging.
Finally, I must confess a slightly ambivalent attitude regarding "corporate hospitality". I wouldn't have got to the concert if it was not for some generous colleagues at Accenture, and I'm extremely grateful to them for that generosity. But while the Accenture box was full, the next box along was empty, as were several others, with seats at a very popular event going completely wasted. As someone who only normally attends such events via "general admission", this is enormously frustrating. I don't know that there's any real resolution, but it's something event organisers really need to think about.