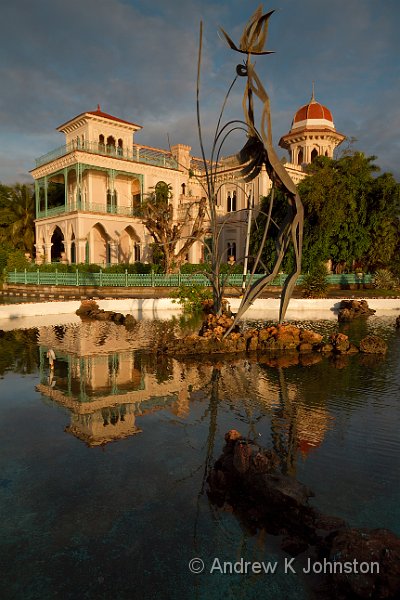 Camera: Canon EOS 7D | Lens: EF-S15-85mm f/3.5-5.6 IS USM | Date: 20-11-2010 13:06 | Resolution: 3449 x 5174 | ISO: 200 | Exp. bias: -2/3 EV | Exp. Time: 1/200s | Aperture: 10.0 | Focal Length: 17.0mm (~27.5mm) | Lens: Canon EF-S 15-85mm f3.5-5.6 IS USM
This is the Palacio de Valle, a great piece of architecture inside and out with strong Moorish influences. It's also home to a restaurant, one of Cienfugos' finest, where we ate after our long drive from Vinales.
That has to be one of the worst experiences of the trip so far. The food was disgusting, so much so that one member of the party had to send his back, and the entertainment wasn't much better. The beautiful grand piano was probably last tuned before the revolution, and I suspect the elderly Shirley Bassey look-alike playing it was probably last in tune about the same time!
OK, I was warned about the food before I came, and I haven't visited anywhere in danger of getting a Michelin star. But elsewhere the music has been superb, with every bar and street corner hosting a band pumping out great latin rhythms, and wonderful complex harmonies. I may yet grow to hate "Juan Palamera" (or what ever it's called), and the one I only know as the "Golden Wonder, they're jungle fresh" song (showing my age :)), but so far I'm bearing up well. The old biddy at the Palacio was an exception.