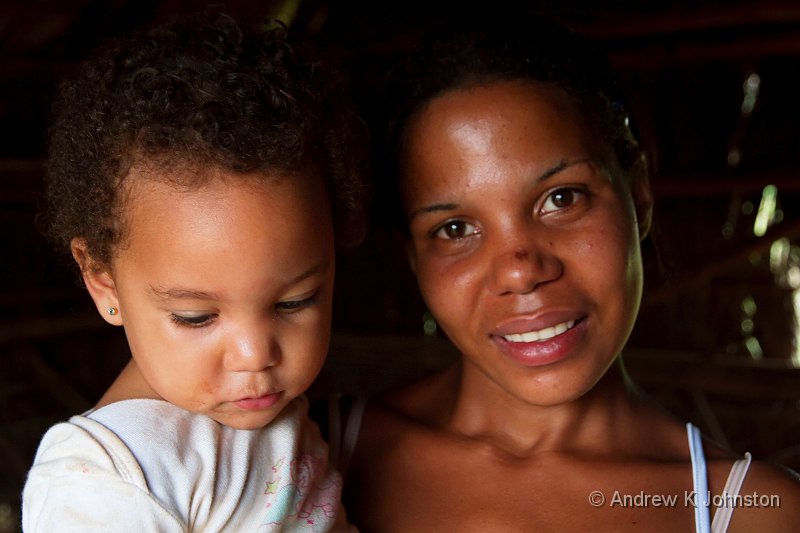 Camera: Canon EOS 7D | Lens: EF-S15-85mm f/3.5-5.6 IS USM | Date: 18-11-2010 15:48 | Resolution: 4854 x 3236 | ISO: 800 | Exp. bias: -1 EV | Exp. Time: 1/50s | Aperture: 4.5 | Focal Length: 35.0mm (~56.7mm) | Lens: Canon EF-S 15-85mm f3.5-5.6 IS USM
The update I wrote at about 7am yesterday turned out to be incorrect – the mist in Vinales Valley suddenly cleared, and we got some very good shots in the early morning light, with wisps of mist still visible. I'll pop one of these in the second post.
After breakfast we visited a tobacco farm. Unfortunately there wasn't much to see in terms of tobacco processing, because it's right at the end of the season. However, we did get plenty of chances to shoot the people and the farm itself. I'm particularly proud of my "mother and child" shot. Who says my subscription to National Geographic isn't paying off? 🙂
The people are very friendly, and will put up with endless requests to pose with a smile on their faces. However you do worry that it's driven by their desperate poverty, and the fact that a 1 Peso tip is getting on for a day's income for some people here. I can't imagine telling a Surry farmer to stop what he's doing for 1/2 hour so 14 people can take photographs, or (as happened to another person on the trip yesterday, admittedly inadvertently) stopping someone driving off in their own car because they were getting in shot!
Yesterday afternoon the weather closed in, so my exhaustive series on the porches of Vinales will have to wait until another year…
7 hour drive to Cienfuegos today. Oh well…