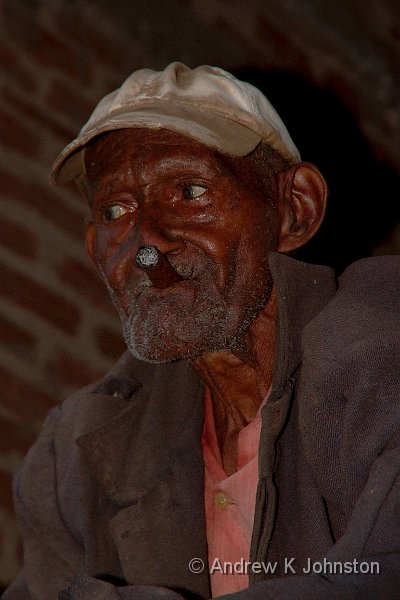 Camera: Canon EOS 7D | Lens: EF-S15-85mm f/3.5-5.6 IS USM | Date: 21-11-2010 23:30 | ISO: 400 | Exp. bias: -1 EV | Exp. Time: 1/60s | Aperture: 5.6 | Focal Length: 85.0mm (~137.7mm) | Lens: Canon EF-S 15-85mm f3.5-5.6 IS USM
It's about 50 miles from Cienfuegos to Trinidad, along the coast, which takes over 2 hours on a very bumpy road. However the drive is worth it. Trinidad is a very pretty town: different architecture again – based on two storey terraced houses and cobbled streets, with the houses all painted wonderful pastel colours. The Hotel Cuevas in Trinidad is lovely – a very Caribbean style arrangement of individual chalets at the top of the hill outside the town.
Trinidad is more overtly tourist focused than the other places we've been, with almost every other house on a larger street or square turned into a little gallery or coffee bar, and a lot of the more colourful older people very much geared up to "a pose for a peso". The downside is that the pestering is worse than elsewhere, except maybe around the Capitolio in Havana.
I do now have one cigar, forced on me by an itinerant vendor. I didn't want the cigar, and he didn't want a bar of soap in exchange, so honours are even! However, it's a good prop to go with the hat (see previous post), so I'm now working even harder on my "Che Guevara" persona. You have been warned.